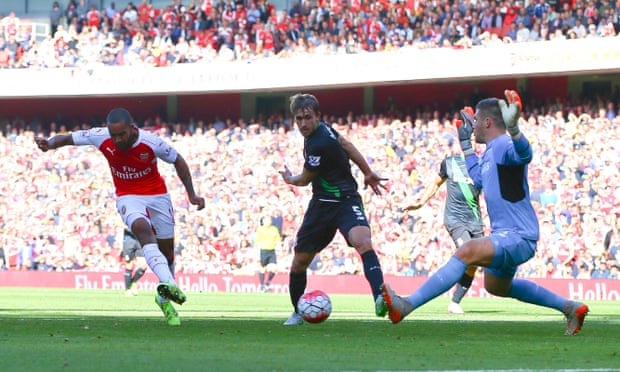 1) A spineless defeat in more ways than one
It might be true that Stoke always lose at Arsenal, and we always seem to save some of our sleepiest performances of the season for the trip to the library in N7, but by any standards, this was a bitterly disappointing performance from our boys.
Pretty much from start to finish, Stoke were outplayed, out-thought and, most painfully, often outfought by their old nemesis.
Mark Hughes surprised us all by opting for 4-4-2, while Phil Bardsley's return to the starting line-up was another eye opener given he hadn't made a single league matchday squad up to this point.
The tone was set almost immediately. Two minutes had elapsed when Alexis Sanchez darted through unchallenged, Jack Butland having to be immediately alert to tip the Chilean's header onto the post before Theo Walcott put the rebound wide. Before the 10th minute had elapsed, the Chilean had struck the post again and forced another full-length save from our goalkeeper with a well-struck free kick. It didn't augur well.
The red hoards continued to overrun us, with, Walcott, Koscielny (with an uncharacteristic 30 yard boomer) and Cazorla the next to test Butland. Stoke hadn't turned up. Their quality on the ball was frankly upsetting, with pass after pass presenting the ball back to the Gunners and heavy touches killing any attempts at mustering even the flimsiest of counter attacks. Our first half pass accuracy rate stood at a pathetic 68%. After the bravery in defeat against West Brom and fightback against Spurs, it was also troubling to witness the atypical lack of guts in the performance, with some players – most notably those in the final third – not looking especially interested.
The hosts continued to dominate until, inevitably, our resistance caved on the half-hour mark, ironically as the result of being caught on the break during a rare foray into enemy territory. From an Arsenal perspective it was a very classy goal. Coquelin's challenge on Joselu was hard and brilliantly timed. Őzil's raking 50-yard ball for Walcott was sublime. The England forward's touch, pace and finish were strong. Stokies though could only curse Joselu's poor touch that made it easy for Coquelin to rob him and Marc Muniesa again being well and truly done for pace.
We shockingly managed a shot on target of our own when Joselu struck a fierce effort straight at Petr Cech, but the only thing to celebrate at half time was that, by some miracle, we were only a goal down.
A Shaqiri shot that stung Cech's palms briefly gave us hope that we might sneak the most undeserved equaliser in football history, while Diouf wasn't a million miles from connecting with a whipped-in Joselu cross. The arrival of Stephen Ireland and a switch to 4-2-3-1 did improve us for a time, creating space for Shaqiri to get off a couple more shots and Diouf to again just miss getting on the end of a nice cross, this time from Bardsley. We also had our 'what if' moment when the decidedly unangelic Gabriel clearly hit Arnautovic in the face. It was miles worse than the incident that saw Ibrahim Affelay red carded two weeks prior, but the cowardly Jon Moss did nothing about it, while Stoke-hating Trevor Francis on co-commentary shamefully tried to blame our player and couldn't understand his fury at being whacked in the chops. How would Francis know what that feels like anyway?
Soon enough, our goal was once again under siege. Some of our defending had actually been pretty decent – Bardsley made the most clearances, Cameron the most blocks. Yet at times we were our own worst enemies. Muniesa continued to struggle against Walcott, we continued to give the ball away in dangerous areas, and Whelan and Cameron contrived to present Giroud with an absolute sitter that the Frenchman – who hasn't had much of a week – screwed wide.
Another goal was coming though and in the 84th minute it arrived. Bardsley –whose every performance reads like a suicide note at the moment, appeared to be trying to get himself sent off, getting away with sarcastically applauding his own booking before petulantly hauling down Alex Oxlade-Chamberlain on the Stoke right. Cazorla's delivery evaded Glenn Whelan at the near post (as every set piece invariably does) and Bardsley capped off his night's work by losing Giroud, who'd finally had enough of looking gift horses in the mouth and headed past Butland. 2-0. Game over.
In truth the scoreline flattered us. It was one of the worst performances of the Hughes era, eerily reminiscent of an away day under his predecessor. The manager will undoubtedly give a metaphorical shoeing to the players who let him down, but he should take a look in the mirror at the same time…
2) Hughes gets it massively wrong
In some ways the switch to 4-4-2 was a positive move. It was bold, and it demonstrated that Hughes isn't wedded to the defective 4-1-4-1 he'd used up to this point.
When the team was announced, one wondered if it might be a similar 4-4-1-1 to that deployed so successfully at the Etihad this time last year, with Diouf buzzing round behind a target man. However, the team that triumphed at Man City was far hungrier than the one that started on Saturday, with Diouf himself markedly less busy than he was that day. Yet in many ways the players were hamstrung from the outset. This was a straight 4-4-2, which had the effect of removing a body in midfield against a team that loves to pass teams to death. It might have been a brave move by Sparky, but sometimes discretion is the better part of valour.
The mid-ranking teams who've got results at the Emirates in recent times have done so by keeping things very tight. Swansea abandoned their enterprising style to hunker down, get men behind the ball and pinch a 1-0, much to Arsene Wenger's chagrin. West Ham won on the opening day by stuffing the middle of the park with midfielders. We pretty much did the opposite.
As we were at Norwich, Stoke were swamped in the middle of the park, while we just could not deal with Arsenal's movement, as they got in behind us on the flanks at will.
It appeared not to have occurred to the manager that this might happen, and he started to panic, swapping his attacking players round and cramming square pegs into round holes. Diouf was shunted out wide with Shaqiri moving up front, with the two then swapping back, before Arnie was shoved up front.
Ultimately, the 4-4-2 was abandoned in favour of 4-2-3-1, which did yield a (brief) improvement. However, that only served to again raise the question of why Hughes is so mystifyingly averse to using that system, and indeed Stephen Ireland, from the start. As I wrote a couple of weeks ago, there's no logical reason for this, and the failure to reward a player in form is most un-Hughes-like.
I remain convinced everything will be fine and that the manager will get it right. With two ninth-placed finishes, he has earned that respect, and a poor start to the season doesn't change that. It's hard to shake the feeling however, that Hughes has been a big a factor as any in our winless run thus far.
3) The midfield embarrasses itself
The formation made it difficult for them, but there can be no excuses for the performances of our central midfielders. Glenn Whelan and Marco van Ginkel completed just 15 passes between them over the course of 90 minutes. To put that into context, Laurent Koscielny, completed 49 on his own.
Whelan had his worst game since…well, the last time we played at the Emirates. He has been Stoke's best outfield player this season, but on Saturday he was sloppy, leggy, slow and dithery. Every time he got the ball he took too long and was rapidly closed down, and his passing was unusually wasteful and panicky, with a number of the home side's chances starting with a mislaid ball from the Stoke captain. We also have to stop putting him on the near post at set pieces as it's getting embarrassing now.
As we got comprehensively overrun in midfield, our own engine room was an active hindrance to the defence it was supposed to be protecting, while simultaneously offering no support to the attack.
Van Ginkel's afternoon began with him completely losing Sanchez, the Dutchman literally standing and watching as the £38m star waltzed into the area to head on goal. Things didn't get enormously better. He did make one or two decent tackles (in fact only Coquelin made more), but once again he had no bearing on the contest whatsoever and worse, looked as if he wasn't especially bothered about making an impression.
There's still plenty of time for him to come good and only a fool would write a player with his pedigree off after five games, but by the same token we really need to start seeing something from him soon. He is playing in arguably the key position in the side and we cannot afford to carry passengers. That's what he was at the Emirates.
With two winnable home games coming up next, he'll have a stay of execution, but if he doesn't perform in those he may need to be taken out of the firing line with other options explored.
4) Butland is the lone ray of light (again)
As was the case in our last away game, our goalkeeper was the undisputed standout performer. Make no mistake about it, were it not for Jack Butland, this would have been a damaging thrashing of six or more. For the custodian, it was very much a case of bravo that it was only two-zero.
The saves he made were staggering in their variety, from full length dives to deny long range blasters from Sanchez and Koscielny, to close range reflex saves from Giroud and Sanchez to impressively brave, decisive stops that involved rushing out and closing down the angle when Arsenal players got into the box. Arsenal had 29 attempts on goal, and Butland denied 10 of their 12 shots on target. It was a one-man show, and he is the only Stoke player who can feel proud of his efforts on the day.
Butland has settled into the number 1 slot more quickly than he or we could have dared to dream. He has been waiting for this opportunity his whole life and now he's taking it.
His chance at international level will come soon enough. In the meantime we can thank our lucky stars we had the foresight to sign him when we did.
5)  All we need is just a little patience
I know it looks bad. We are in the relegation zone. We have scored three goals. We are yet to keep a clean sheet or win a game. There are defects in every area.
However, and I appreciate this is the most basic of basic points: the season ends in May, not September. There is a section of Stoke fans who appear to think that things being poor now automatically means they will be forever. It doesn't work like that.
We have to be patient. There are eight months of the season remaining and an awful lot can change in that time. Lest we forget that on February 1st 2014 we kicked off at 3pm 18th in the table. We finished ninth.
It has taken us a while to click in every season under Hughes, and though the losses of Shawcross and Nzonzi make this campaign slightly different, there is still an awful lot that can improve between now and 7th May. There's every chance the new players will gel – I for one have learned my lesson about writing new signings off too quickly – and if they don't we still have plenty of quality in the squad.
Xherdan Shaqiri is a footballer of rare quality and he will come good.
We still have Bojan to come back.
We still have Shawcross to come back.
There's another transfer window if we need it.
The manager will also surely come to his senses about 4-2-3-1.
We've also seen glimpses of what this team is capable of – its fightback at Spurs, the way it controlled the early going at Norwich, the fluidity of the opening 20 minutes against West Brom and the spirit show in battling to the death with nine men.
I keep reading that our next two home games will define our season. Nonsense. They won't one way or the other. Even if we lose, while that would be worrying, there will still be over 30 games of the season left to play. Nobody's season is 'defined' before October.
There are no guarantees, and of course everything could go horribly wrong. But there are more than enough reasons to believe everything will be fine.
Keep the faith.