1) Only darkness at the Stadium of Light
Same old, same old. The usual non-performance, the usual outcome on the usual dreary day (we never seem to get this trip in spring do we?), Saturday once again demonstrated that the only things certain in life are death, taxes and defeat at Sunderland.
After a fine run of results in recent weeks, this performance felt like a retrograde step. One might point to the circumstances and the numerical disadvantage as the key factor in our defeat, but Stoke lost because on the day they were the worst of two poor sides.
Toothless huff and puff was all our attacking play amounted to, marred by sloppiness, over-elaboration and bad decision-making – there was a short corner at one point so bad it should have melted the faces of anyone who gazed upon it, like the Nazis in Raiders of the Lost Ark – while at the back we looked nervier at times than we have for a fair old while.
Not one Stoke forward had the verve, fearlessness or energy of Sunderland youngster Duncan Watmore, who caused our back line headaches for chunks of a miserable afternoon.
Mark Hughes' team was unchanged, and though one could certainly see the case for bringing Mame Biram Diouf back into the starting line-up, the manager's reluctance to mess with a winning team was understandable. The start we made was bright enough, with Xherdan Shaqiri seeing plenty of the ball on the right in dangerous areas. At the other end, Jermain Defoe's pace looked dangerous against Philipp Wollscheid, and the ex-England striker had the first real chance when he made space to drag a shot just wide of Jack Butland's goal.
The sight of Defoe limping off after half an hour looked like good news for Stoke, but nothing could've been further from the truth, as on came Watmore to immediately put Erik Pieters on his backside a couple of times and generally inject some fizz into the home side's play. Sunderland got men behind the ball in numbers when they needed to, but they also had the quickness to worry us. Charlie Adam soon picked up a booking for catching Cattermole. Ryan Shawcross got away with one when Watmore was too fast for him and he played the man and not the ball, the forward's ability to remain upright probably ensuring our captain wasn't carded. That was merely a stay of execution however, as when Shawcross tripped Steven Fletcher soon afterwards, the Caledonian Mr Potato Head doppleganger ensured he threw himself to ground in the most Broadway fashion imaginable.
The best chance of the half, nevertheless, fell to the Potters. Pieters got away down the left after 32 minutes and put a lovely low ball in towards the near post. Jon Walters was there to meet it, but could only fire a weak shot into the gigantic Costel Pantilimon when he really should have buried it. We wouldn't get a better chance.
Still, at half time neither side had much to shout about and we were still very much optimistic about taking something from the game. That optimism lasted roughly 47 seconds after the start of the second half, when an innocuous coming together between Shawcross and Watmore gave Mike Dean the excuse he'd been waiting for to right his earlier wrong and give Shawcross his marching orders. It was another poor decision from an official who'd already made a few and would make plenty more.
Sunderland proceeded to create a couple of decent chances, with the lively Yann M'Vila going close before a point-blank header from Coates was heroically tipped over by Butland. Then however, their threat seemed to fizzle out, as Stoke reorganised and dug in to try and protect the point with everything they had. As the clocked ticked towards the last 10 minutes, it really looked as if we'd neutralised the game and would make off with a gloriously tedious draw, especially when Dean gifted us a decision of our own when he inexplicably failed to point to the spot when Glen Johnson brought down Jeremain Lens.
Those modest dreams went straight down the toilet however when Adam Johnson conned a free kick on the right by diving over Pieters' leg. The mackems worked the resulting free kick well, knocking the ball out to Patrick Van Aanholt, 25 yards out. We were hopelessly slow to close him down, leaving the left back free to rifle a powerful low shot past an unsighted Butland.
That was probably game over. Three minutes later it became definitely game over when Pieters made a dreadful hash of clearing a throw-in and Watmore was set away, squeezing his shot in from an angle on the right to score the goal his performance deserved.
2-0 wasn't really a fair reflection of a game that looked destined to be goalless for much of the afternoon, but Stoke can't with a straight face argue to have deserved anything. Our attacking play was insipid and directionless long before the red card, we didn't take the one chance we had, and the hosts took theirs.
On some levels, the obligatory 'bad day at the office' spiel is warranted. We will bounce back from this, as we always do, and it would be no shock to see us beat Manchester City on Saturday. However, the resurfacing of the same old problems shows how much work there is to be done. We look no closer to working out how to create space and opportunities against packed defences. When faced with that sort of problem, our response is to keep trying what doesn't work and then give up, with the absence of bodies in the box, and static and uninterested forwards failing to make any kind of run, typifying our attacking play.
Must do better.
2) Mike Dean was useless for both sides
Many Stokies have been quick to point the finger at the referee and accuse him of costing us the game. Yet while Dean had a desperately poor game, there was no conspiracy or agenda at play here. By the end both sides could feel thoroughly aggravated by his performance.
Dean has a reputation as a homer, and he appeared set to live up to that billing early on, wasting no time in booking Adam after letting Seb Larsson off for a succession of petty fouls. He was perfectly placed when Pantilimon clearly carried the ball outside his area too, and didn't so much as award a free kick.
However, Ryan Shawcross could and arguably should have walked earlier, with Allardyce (shamelessly harassing the fourth official throughout, as is his wont) apoplectic about the ref's refusal to book our captain for his first foul on Watmore.
Dean was clearly informed of his error in no uncertain terms, and unfortunately for us fell into the trap of trying to 'even things up'. He'd made his mind up that Shawcross would walk at the earliest opportunity, and so despite the fact that even on the first viewing it was clear Ryan had taken the ball in his encounter with Watmore, it counted for nothing. Dean had to atone for his earlier crime, Shawcross had to pay for his earlier transgression, so that was that.
Perversely, the sending off seemed to do us a favour – it had no effect on our attacking play, as that was already dismal, and allowed us to focus on strong, organised defending. After the two chances that followed the red card, we didn't hear a peep from the Black Cats for a good 25-30 minutes.
Of course, the problem with the 'two wrongs' style of officiating is that Dean now had another gaffe to make up for. And so Johnson escaped despite clearly getting none of the ball and knocking Lens over in the box with eight minutes to go. It was as clear a penalty as you'll see, and Dean was perfectly placed, yet waved it away.
It was now Sunderland's turn to profit from Dean's generosity, and Johnson's clever dive over Pieters conned him sufficiently to award the free kick that sealed our fate. Both teams were unwillingly engaged in a game of bad decision roulette, and Sunderland won.
In fairness, Dean wasn't helped by the home manager's touchline pantomime, nor by the propensity of another Allardyce team falling over at every opportunity from the get-go. There are worse refs than him, but he does always give the impression that he likes the attention – he's a big one for theatrical, demonstrative gestures, which I always think is worrying in a referee.
He was not the reason why we lost though. We got what we deserved.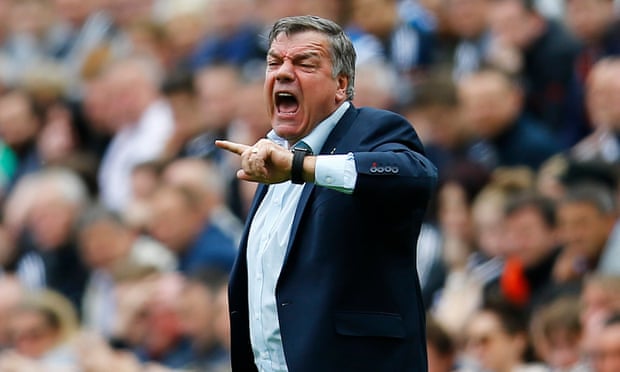 3) Allardyce had Stoke well-scouted
Big Sam is, it's fair to say, fairly impressed with his own managerial prowess, so much so that he's even invented new words to describe it. Remember his famous 'Allardici' rant, or the one where he proclaimed himself better suited to managing Real Madrid than Blackburn?
The rest of the world might not quite share that view, but there's no doubting Allardyce is a very assured if pragmatic Premier League manager. As is the case with Tony Pulis, his tactical brother from another mother, teams under his care rarely have to worry about relegation.
Allardyce had done his homework on Stoke. Though Sunderland were like Kevin Keegan's Newcastle in comparison to how deep and defensive they were at Selhurst Park on Monday night, they knew that our greatest threat lay on the counter and ensured they had bodies back quickly in numbers to deal with us when we tried to break. That in itself is testament to the new manager's impact, as a notoriously lackadaisical group of players is now busting a lung to impress and buy into his ethos.
Where other managers have seen Shaqiri as our main threat and doubled up on him, leaving Arnie with the space to destroy them, Allardyce correctly identified the Austrian as our biggest threat and stuck two defenders on him, much to the number 10's chagrin. He barely had a kick. The black cats were also wise to Glen Johnson's threat on the overlap, and prevented him from getting free to get into those sorts of positions at any stage.
We came into this game as the form side in the league, away games are our strength, yet Sunderland – player for player one of the poorest teams in the league (would any of their starting XI get into our side?) – stopped us all too easily. That had a lot to do with the poverty of our own play, but Allardyce deserves the plaudits as well. Sunderland had won back to back games once since May 2014 before this week.
When Dick Advocaat walked and Sunderland were being linked with a succession of cheapo options like Bob Bradley and Sean Dyche, you wondered why Ellis Short didn't just throw some money at Allardyce (an ex-mackem hero as a player, don't forget). Short's decision to give in to common sense will prove a wise one. It won't be pretty, but Sunderland aren't going anywhere.
4) Time for the creators to create
It seems inconceivable that a team boasting the magic triangle of Arnautovic, Bojan and Shaqiri should struggle to create chances. But that's the situation we've got here. It is lack of opportunities forged, rather than chances not taken, that have rendered us the lowest scoring team in the Premier League.
It's not the first time we've worn that particular thorny crown, but when it was the case in the Pulis era, the reason for it was at least obvious – he prioritised defending. The fact that this team is much more positive and open, incorporates much more flair, yet still finds it hard to create anything is arguably more troubling.
Breaking stubborn defences down might has become a problem for us worthy of a Millennium Prize. The predictability of our forward play on Wearside was depressing. Shaqiri saw a lot of the ball but every time he got it he did the same thing – look to go round the outside, pause, play the ball inside. Arnie drifted increasingly infield to try and escape the extra attention, to no avail. The full backs rarely got into helpful positions. Adam was quiet. Bojan turned in a hi-ho silver lining display, being everywhere and nowhere, baby. Jon Walters worked hard but more often than not was never where we needed him to be. It was defective, and it got worse, not better, until the red card killed it off once and for all.
So how to solve the problem? It's easy to look longingly at the January window. Some are calling for us to bid for Charlie Austin or someone of his ilk, but that misses the point – yes, the sitter Walters missed on Saturday was costly, but that was as much because it was the only genuine chance we fashioned as it was to do with the striker's finishing. At present, most strikers are going to have the same problem – they're not getting the service.
If there is any business to be done in the window it has to be in signing a third winger to offer something different to Arnie and Shaqiri. Both of those players are jinking, technically wondrous lock-pickers. They would be complemented by a Moses-style roadrunner – someone who perhaps isn't as gifted in terms of touch, but who is more direct, able to pick up the ball and just go, causing chaos, opening defences up, injecting some urgency into our play.
First and foremost though, the problem needs to be addressed on the training ground. Jurgen Klopp recently talked about how English teams tend to think they can solve problems with money rather than coaching. Surely we can find a way to mix things up against packed defences with the talent in the squad? Work on the striker's movement, get the three behind him to play more fluidly and interchange more, get players to HAVE A SHOT when they get the chance to?
With no solution in sight to this long-standing problem, it'd be nice to think we were at least looking at fresh approaches rather than the keep-doing-the-same-thing-then-give-up stuff we've peddled when the opposition have hunkered down in their own half all season.
5) A timely wake-up call?
The silver lining with this defeat is that it might administer the requisite jolt at just the right time.
On Tuesday, we find ourselves three games from Wembley. We are at home to a side eighth in the Championship. It is a huge opportunity for us. But it is one we can't afford to be complacent about.
In February, we were all discussing who we'd get in the FA Cup Quarter Final after disposing of Blackburn. In 2008, we were at the same stage of the League Cup we are now against Championship Derby and entirely confident of progressing. We all remember how both games turned out.
It's not just our propensity to make a right old cock of cup ties that should make us wary though, but the fact that there's a strong chance that Sheffield Wednesday will come to the Brit and play as Watford, West Brom etc did – tight, defensive, deep. As discussed, that is kryptonite to us. We have to be ready.
They will work hard. They will be determined. They will be pragmatic. We have to guard against any complacency and, without the captain and the calming influence he's had on the defence, do what needs to be done.
Let's play a strong side, let's go for it, and let's get our trophy back.