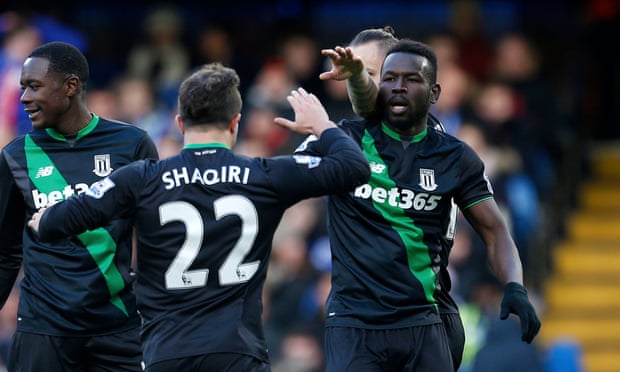 1) First Premier League point at Stamford Bridge is well worth the wait
The last time Stoke got any kind of league result at Chelsea, the original version of 'Do They Know It's Christmas?' was number one in the charts, Beverly Hills Cop ruled the box office, and Mikhail Gorbachev was having tea at Downing Street.
Yes, The Blues were one of the few teams to suffer the embarrassment of failing to beat Bill Asprey's record breakers during the notorious 'holocaust season'. Needless to say, the team who matched Guus Hiddink's men on Saturday had rather more about them.
We headed into this game confident of getting something in spite of the champions' recent resurgence, given our own mini-revival of three wins on the bounce. Performances might not always have entirely reflected results, but we'd got the smell of victory back in our nostrils, and with the hosts missing Pedro as well as cuddly duo John Terry and Diego Costa, we'd make sure we had a right old go.
Mark Hughes picked a sensible side, retaining the bulk of the bunch who'd seen off Bournemouth, Villa and Newcastle but bringing back Marc Muniesa, with Geoff Cameron moving to right back in place of the injured Phil Bardsley, and Mame Diouf earning a deserved recall up front in Jon Walters' stead.
It was clear from the outset that this was a game in which we'd find plenty of space in the final third, with Chelsea's orange-flavoured openness giving us plenty of opportunity to counter. Almost immediately, Giannelli Imbula was driving at their back four, and Xherdan Shaqiri was finding pockets between the lines.
With yet another enforced change to our defence we were always likely to be tested, and The Blues did get on the front foot and cause us problems, most of them down to livewire youngster Bertrand Traore, who was quick, slick and prone to falling over at the slightest tickle. Oscarl and Willian would spurn decent opportunities for The Blues, and our back line made some crucial blocks and interventions.
Games against this kind of opposition tend to bring out the best in Stoke though, and we posed plenty of threat ourselves. With 20 minutes gone we'd forced three corners to Chelsea's zero. Ibrahim Afellay worked Courtois with a 25-yard drive, and Shaqiri's probing runs and vision promised to carve open their defence.
The best two chances of the opening half-hour both fell to Diouf. First, a textbook counter attack ended when Afellay (the best deliverer of a ball at the club) put over a peach of a low, curving cross with the outside of his boot that the Senegal star, at full stretch, put over when he should've hit the target. Next, Shaqiri's perfect ball to the back stick found our striker all alone, but he snatched at the volley and in cannoned into the turf and wide.
It felt like we'd be left to rue those misses when Chelsea took the lead six minutes before half time, when a prolonged period of slapstick in the Stoke defence saw us contrive to lose the ball a in dangerous area through  Afellay, culminating in Whelan being turned far too easily as Traore slammed home a fine strike.
That goal changed the complexion of the game. The second half kicked off with Chelsea now the ones able to play on the break while we were forced to try and seize the initiative. Initially, Hiddink's side were comfortable in their strategy. They repelled us generally pretty easily, bar one exciting moment when Shaqiri wriggled free on the edge of the box, beat two men and forced Courtois to tip his shot wide. In between those moments, the hosts were dangerous on the break, with Eden Hazard bewitching Wollscheid with a Cruyff turn before shooting wide, Jack Butland called into action to repel efforts from Willian and the impressive Reuben Loftus-Cheek, and one scary moment when Muniesa appeared to clumsily bundle Oscar over in the box, only for Mark Clattenburg to wave away calls for a penalty.
Stoke however, kept plugging away, and as our left side, bizarrely neglected during the first half, saw more action, Marko Arnautovic's influence grew. With Shaqiri still involved in our attacking and Arnie starting to consistently have the beating of Azpilicueta and others, we just needed that one missing ingredient to unlock the door. Happily, the manager found it with a bold substitution; off came Glenn Whelan, and on came Bojan.
Now our attacking play was visibly enhanced, with the wee Catalan turning in his best showing in some time. All jinking runs and clever turns, Senŏr Krkic ensured the ball stuck in the final third, and his clever late dashes into the box opened up a back line that had to that point withstood pretty much everything we'd thrown at them in the second half. He served them fair warning when he slunk through a gap to fire inches wide, though the flag was up for the most marginal of offside calls. Now, after half an hour of mostly smoke, our attacking had some honest-to-God fire.
Not that Chelsea were placid by any stretch, and Clattenberg again chose to look kindly on us when the already-booked Erik Pieters sent Oscar sprawling – other refs may well have opted to give the Dutchman his marching orders.
Finally, our breakthrough came with five minutes to go. Imbula, magnificent throughout, pinched the ball and fed Bojan, who made for goal and then switched the ball wide to Shaqiri. The Swiss' cross could only be punched away by Courtois and there, third time lucky, was Diouf, who reacted to expertly loop his header into the empty net. His celebration, a mix of emotion, exhaustion, relief and delight, was genuinely touching.
Now both teams went for it. Baba Rahman's piledriver was pushed wide by Butland; Oscar planted his (free) header from the resulting corner onto the roof of the net. An insane run from Imbula saw him tee up Bojan  in the middle of the box; Courtois was there to deny him.
No winner was forthcoming and 1-1 was a fair result in an entertaining game. Unbeaten in four, this was probably Stoke's best performance of this current good run. Could it be that we're hitting our stride as we head into the final stretch? It wouldn't be the first time on Mark Hughes' watch…
2) Welcome back, Mame Biram Diouf
It was a no-brainer to reinstall Mame Diouf in attack. His cameo against Newcastle in midweek was the catalyst for finally breaking the deadlock, as the nominal 'little' in a little and large 4-4-2 with Peter Crouch. He buzzed around, harried, made a nuisance of himself, chased lost causes and eventually laid on the winner for Shaqiri.
With Jon Walters toiling to no effect whatsoever at home to Villa and The Magpies, a change was needed to freshen up our attacking options. Diouf had not started a game up front since his miserable afternoon in the home drubbing by Everton, but Hughes is generally keen to reward a man in form, and the chance to use his pace against Cahill and Ivanovic only strengthened his claim for a recall.
Diouf has, as we all know, had a dreadful time of things over the last few months, given the awful family tragedy that has befallen him, and it was almost inevitable that this would impact on his form. At Chelsea however, he looked much more like the striker we saw this time last year. Against Everton he'd not made the runs or anticipated the passes, but here his movement pulled The Blues' back line apart and gave Shaqiri and Afellay in particular something to aim for.
It was a shame then,that it looked as if his contribution would be remembered for those two first half misses. At Stamford Bridge, you have to take your chances when they arise, and those misfires appeared for a fair while as if they were going to prove costly.
He really needed to do better with both as well. Though he was at full stretch to meet Afellay's sumptuous cross, he should have got over the ball rather than ballooning over, and there is little that can be offered by way of mitigation for missing the target completely with his volley when Shaqiri put it on a plate for him.
Hopefully that profligacy can be attributed to rust, given he's started just 7 league games up front all season (and only two since September). Plus, the real positive is that he was getting into those positions in the first place. It's being in the right place at the right time that's the true sign of a good striker – do that often enough and the goals will come. Getting into those areas to pounce has been an issue for all of our strikers this season, but Diouf was a real menace all game in West London.
That paid off royally in the 85th minute when he was on hand to head in that precise, precious equaliser. After the season he's had, we were as delighted for him personally to be the man to grab the goal as we were for the team to get back on terms. Judging by the celebration, the players felt the same way.
There was more to his performance than predation though. His all-round game showed considerable improvement. Required to act in part as a target man as part of his line-leading remit, Diouf won more aerial duels than anyone else, and his work rate was excellent.
Diouf will now surely get a run of games in his favoured position. The acid test he faces will come, as ever, in games at home to defensive sides. Away from home, we've been able to create more chances regardless of who's been up front – note the four scored at Everton and the three at Bournemouth; note the chances Walters missed in that latter game and in the second leg of the League Cup semi final; note the host of opportunities spurned at Southampton and deploying the false nine at West Ham. It is at the Brit, with the likes of Sunderland and Swansea still to visit, that the incisiveness witnessed with Diouf up front at Chelsea (further sharpened with Bojan's arrival) will be needed more than ever.
The floor's yours Dioufy. Show us you're the main man, and end this game of striking musical chairs.
3) Imbula is going to be the talk of the Premier League
In a rare change of pace for broadcasters of Stoke City matches, the co-commentator on the stream I was watching was positively gushing about the club and our performance for pretty much the whole game. One of the professional cockney Tonys that infest the English football media (it turned out to be Gayle but could just as easily have been Cottee or Cascarino), this pearly king was particularly outspoken in his praise of Gianelli Imbula. Indeed, he would not shut up about our record signing, and by the end was all but ready to ask for his hand in marriage, the peak coming when he bizarrely leapt to his defence like an overzealous father at a lads and dads game and admonished Shaqiri for criticising a misplaced pass.
Gayle had good reason to go weak at the knees. After a harsh introduction to the (apologies in advance for this; grit your teeth and go with it) 'wet and windy night' cliché at home to Newcastle, an outing in which he spent the entire game shivering more than Jack Nicholson at the end of The Shining, he was back to his imperious best at the Bridge. From the first whistle he demanded the ball and looked to run at Chelsea's defenders and push them back, and as Gayle noted, he looked a cut above the players deployed in Chelsea's engine room, like Matic and Mikel.
Imbula wasn't just in the engine room; he was the engine itself. In driving forward he wasn't just a threat on the front foot but an invaluable outlet, getting the ball out of danger and high up the pitch. There was one surreal point in injury time where he transformed from defensive midfielder to attacking midfielder to jinking winger, with a 70-yard run that took him from deep in his own half to the left wing, where he outstripped a couple of defenders, got into the box and got in a cross at the byline for Bojan to nearly grab a dramatic winner. I can honestly say I have never seen a Stoke central midfielder do that in 25 years of watching the club.
For the fourth time in five appearances, he made the most dribbles and went past more players than anyone on the park (he was second in the list in the only game he didn't).
He made 20 more passes than Matic. How many of our best attacking moves start with him picking up the ball at the base of midfield? It happened with our second goal at Bournemouth. It happened with Diouf's first great chance on Saturday and then his equaliser.
If there is one minor criticism, it's that he can be guilty of holding onto the ball for too long, checking back to re-humiliate a conquered foe rather than moving the ball on quickly to keep the flow going; but that will, in time, be ironed out of his game, and while that's an occasional nuisance on the front foot, it could prove invaluable further back when we're under the cosh.
It's clear we have a special player on our hands here. While some foreign signings need time to adapt to these shores, Imbula already looks a part of the furniture, a player capable of taking a game by the scruff of the neck and bossing it, in the vein of Vieira, Essien, Yaya. He's everything we, and I dare say Chelsea, were hoping Marco van Ginkel would be. It's taken six months longer than we'd have liked, but we finally have our midfield linchpin.
Bigger clubs, as Gayle highlighted, will cast longing, adoring glances at him before too long at all, and he's clearly heading all the way to the top with or without us. Having paid £18.3m for him though, secured him to a five-and-a-half year deal, and with Porto to get their 15% cut, – not to mention his importance to the side already and the fact that his reputation is only going to grow – the big boys had better be in no doubt: it'll cost them.
4) Shaqiri has found the form of his Stoke career
Since his dodgy first half against Aston Villa a week ago (was that really only a week ago?!), everything has been coming up Xherdan. In fact, you could go back further – since his assist for Joselu's goal at Bournemouth, he has been involved in every goal Stoke have scored. He produced both goals against Villa with two quality pieces of play; he settled the Newcastle game with a 25-yard howitzer, even if it's one the 'keeper should have done better with; and at Chelsea it was his cross that Courtois punched onto Diouf's radar.
Brimming with confidence against the side he first dazzled against in November, Shaqiri enjoyed himself. He played some tantalising reverse passes and through balls into Diouf's path, and he knocked in that delightful ball to the striker at the far post. His corners, admittedly, remain largely terrible, but his delivery from open play has significantly improved.
He's also increasingly inclined to run at defenders. He took on Azpilicueta throughout, and he nearly produced the equaliser with a drop of the shoulder that took out two defenders before Courtois tipped his effort wide. The fact that he's starting to pop up all over the final third and get away from his posse of markers is perhaps the clearest indication yet that he is getting the measure of the league. Finally, this is a Shaqiri we can fall in love with.
This was perhaps another example of him saving his best performances for the top clubs – a big game, box office player. Yet his contribution in the three wins that preceded it is just as much a sign of his quality. After a slow, pretty quiet start to life in England and some frustrating traits, covered in recent Conclusions, it might just be that he's finding that consistency. Hopefully what we're seeing is more than a mere purple patch.
Each week it seems that more and more from his bag of tricks is being unveiled, and there is still the sense that we haven't even scratched the surface. When he delves even deeper, God help the rest of the Premier League.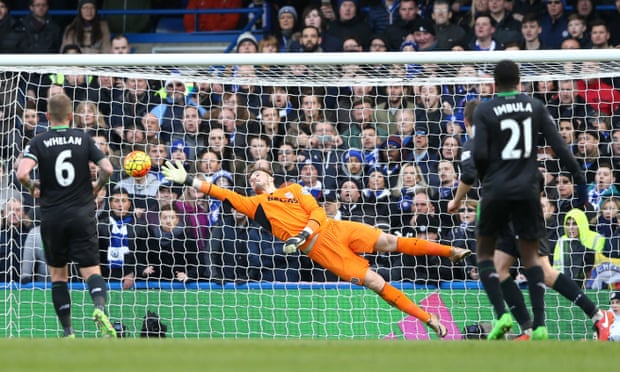 5) Lack of competition is the lone cause for furrowed brows
Without wanting to finish on a downer after such a fine, hard-working performance, the slightly more negative aspects of our display shone a light on the odd situation we find ourselves in whereby we have twice broken our transfer record this season yet still look worryingly light in some areas of the squad.
Having looked to be running on empty during the start of the year, Glenn Whelan's form picked up at home to Aston Villa and Newcastle, where he again exposed as a grotesque fallacy the idea that you don't need a holding midfielder at home to struggling, defensive sides. His positional know-how was important in preventing counter attacks in both games, as he dropped in to cover for the full backs and his midfield partners when they went forward and also deputised when Shaqiri neglected his defensive duties. He even picked up a broken nose for his troubles against the Villa.
At the Bridge however he looked sluggish and off the pace. Although he made more passes than anyone else, only misplacing three of an attempted 57, Whelan had a knack of knocking hospital balls or playing team mates into trouble, atypically choosing the wrong option. He was particularly poor in the build-up to Chelsea's goal as well, first allowing himself to be turned far too easily by Traore, then standing and watching rather than closing him down as the player fired home.
However, there remain zero alternatives to Glenn. Nobody else has the positional discipline to play the holding role. We might have looked good going forward after he went off, but when we start without him we just don't look as safe or as balanced, even against the bottom feeders. A younger model capable of replicating that discipline while adding more guile and mobility to the role has been needed for some time.
Elsewhere, Erik Pieters had a curious game. Defensively he was very strong. He recovered the ball more times than anyone else, won the most tackles of any Stoke player, and made the highest number of interceptions. His use of the ball, however, was just rotten, and it feels like it has been for a while. His pass completion has been the lowest of any Stoke defender in each of our last three games. I'm not sure if it's a concentration or fatigue issue, but he seems to play a lot of balls into touch under little pressure, or balloon balls high into the air. It really needs to be better given how important the full backs should be to our attacking play.
Again however, the other options are non-existent. Marc Muniesa is currently required at centre back given our injury problems, and even when he is available to deputise at left back, he simply isn't in Pieters' league.
Taking these two positions into account, in addition to the need for another winger, at least one centre back and possibly another striker as well, and – as well as we're doing – it's clear there's a need for some reasonably major surgery on the squad if this team is to properly fulfill its potential.