1) The comeback starts here
At long last, a result at Old Trafford! How typically Stoke City that our first point away at Manchester United since the week after John Lennon was shot (Lee Chapman's strike making rather fewer headlines than his namesake) should come not when we're flying, but at pretty much our lowest Premier League ebb. If the rot was stopped in anti-climactic fashion at home to West Brom, this was an exhilarating draw that gives us something to build on.
It's important not to over-romanticise things, as wonderful a moment as Joe Allen's close range stab of the ball high into an empty net was. On another day, this might have been yet another thrashing, but for our borrowed reserve goalkeeper having the absolute game of his life. However, that's not to say there weren't plenty of positives to take.
Chief among them, not to sound like a Talksport pundit, was how much heart and fight we showed. Under pressure for most of the contest, living dangerously throughout, we nevertheless showed a willingness to scrap, to chase, to put our heads and softer parts in the way of trouble, something we've somehow got out of the habit of over the past nine months. More encouraging still was the fact that we didn't lose our heads after falling behind and allow our illustrious opponents to run up a cricket score against us. We weathered the storm, got ourselves back in the game, and did what was required to see things through. It was as if there was a collective rolling up of sleeves, from players to management to an excellent, vocal away support. Enough was enough.
As was the case against West Brom, there were also indications of greater organisation. We wisely sat deep and looked to play on the break, rather than playing a silly high line. Joe Allen's Scrappy Doo instincts were wisely utilised get in the face of Ander Herrera and prevent him orchestrating from deep. The full backs chose the right moments to go forward but knew when to stay at home as well.
Though by no means perfect our defending nevertheless showed a marked improvement. Each of the back four played well individually. The midfield offered greater protection. It's telling that the old guard that was starting to creak has got better as their load has been shared. Ryan Shawcross is slowly looking more like himself with the mobile, physical Martins Indi alongside him and a partnership is really starting to blossom there; Glenn Whelan was back to making important blocks and even sprayed a few ambitious balls to the forwards, afforded the help of the impressive Geoff Cameron beside him.
The more we thwarted the hosts, the more rattled they became. Surprise surprise, Jose Mourinho has turned The Red Devils back into pantomime villains, and when they couldn't get their way they sought to bully us, Valencia going through the back of Erik Pieters, Zlatan catching old foe Shawcross with a couple of elbows, Pogba effectively wringing Allen's neck after Herrera had gone in high and late on him.
They couldn't take their chances though, and we possibly surprised even ourselves by creating a fair few of our own. Our six shots on target was three times as many as we managed at home to The Baggies and more than we racked up during our first three Premier League visits to Old Trafford combined. Great work from Johnson and Arnautovic nearly found Bony at the near post. Geoff Cameron made space for one tame shot from distance then turned in another weak one from a great position in the box five minutes later. Allen twisted and turned but again the finish lacked the power to trouble De Gea. So did Johnson's effort in the 82nd minute, but thankfully the Spanish custodian made a rare fumble, and if Walters' follow-up off the bar surprised fellow sub Peter Crouch, Allen had watched it all the way to finally – unexpectedly – get us back on terms.
Of course, not everything is rosy. The cryptic comments from Bowen and Hughes on Giannelli Imbula before and afterwards hinted that all is not well with our record signing, a man fast becoming the embodiment of our problems. Meanwhile the goal they scored, a rasper from Anthony Martial, was testament to the panic that still fairly regularly ensues in our penalty area and to our infuriating overplaying; it stemmed from a dreadful, careless piece of play from Xherdan Shaqiri.
There was still plenty of sloppiness despite of our defensive improvement. Ibrahimovic almost embarrassed Ryan again when the skipper was caught ball-watching early on, Grant coming to the rescue from the outset. Even without the 'keeper's heroics, Paul Pogba might have had a hat trick, his best chance coming when he absolutely paggered a header against the bar that could have gone anywhere. We struggled with crosses into the box, and we were miles too slow in pressing attackers in the final third.
Then there were the senseless subs once again. Walters did well with his role in the goal but he was otherwise off the pace, as he has been since his return at the end of last season. Equally it's not clear what Peter Crouch is on to do except win headers in his own box. It's hard to see the manager's working out, and such changes do give you that niggle in the back of your mind that to an extent our mini-revival has come in spite of him, rather than because of him.
Context is everything though, and with our rivals at the bottom mostly playing out draws in games they might have expected to win, grabbing one at a place we usually get tonked (we'd not conceded less than two at OT since 1983) is an absolute stonker of a result. This could prove to be a huge psychological step, heading into an eminently winnable patch of fixtures. The season starts now.
2) An underdog story eclipses Zlatan and friends
Funny. Old. Game. Saint. On another weekend, Lee Grant would have been on the bench at the Madejski Stadium, looking out at Scott Carson between the sticks for Derby and willing him to have a bad enough flashback to Wembley, November 2007 to need wheeling away, still in the foetal position.
Instead, he was the undisputed star of a Premier League match at Old Trafford, his heroics beamed live around the world. Was there a better story in English football this weekend?
It was a stark contrast to his top flight debut last week, when he had little to do and still managed to make a hash of most things.
On Sunday, Grant had a lot to do, and he was equal to pretty much everything. The nervous, hesitant figure at the Brit was replaced by a lionhearted, decisive veteran, choc-full of brilliant reaction saves, hurling himself all over the place, even playing sweeper keeper at one point when he was more alive to danger than our back line. It was far and away the best goalkeeping performance since Jack Butland's injury in March.
Grant set the tone inside the first two minutes with that brilliant double save from Ibrahimovic. Juan Mata's delicate lob was next to test him, but the back-peddling keeper managed to tip it over, a mere teaser trailer for his best save five minutes later.
All looked lost when Jesse Lingard's clever run to the near post flummoxed the Stoke defence, but Grant torpedoed across goal to push the hurtling, point blank effort round the post. It was a reaction save so good you could almost believe Simon Le Bon had somehow travelled in time to witness it, then gone back to 1984 specifically to write The Reflex in tribute.
There was no let up for Grant though. In the second half he was called on again and again, keeping out Pogba, Mata and Ibrahimovic again . There was nothing he could do with Martial's emphatic finish and if a draw wasn't a fair result overall, it was certainly justice for our goalkeeper.
For all our battling qualities, for all that we looked a bit more organised and solid, Grant was the difference between a point and another hammering. To bounce back from a debut best described as 'divisive' to reach the pinnacle of one's career a week later shows the kind of character we need in droves at the moment. It should give him confidence and that should spread to what will hopefully be a settled back four over the coming weeks.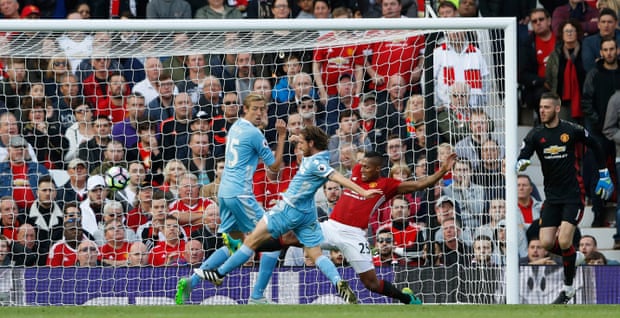 3) All hail Joe Allen, Stoke's Player of the Season so far
The game's other top performer, less surprisingly, was Joe Allen. We saw the reprise of his multi-lunged Tasmanian devil routine, a whirling dervish boomeranging all over the park, winning the ball high up the pitch, making tackles, recovering the ball, arriving late in the box to do the damage, dragging the rest of the team with him.
What was astonishing about his display was that he hadn't trained all week, yet covered more ground than anyone else, running 11.88km –  1.26km further than the second busiest player, Geoff Cameron. We are in the realms of the X-Men here, if not the X-Files.
He is a supreme irritant to opposing midfielders, as his status as the game's most fouled player underlined. So annoying was he that Ander Herrera tried to snap him in half with that appalling challenge, which should have seen the ex-Bilbao man shown a straight red card, and made a fool of cheerleading Owen Hargreaves on commentary. Despite numerous replays showing Herrera's high, studs-up tackle and follow-through, Hargreaves, in that curious part-Canadian, part-Teutonic twang that makes him sound like he's about to say "Hasta La Vista, Baby" at any moment, protested his innocence, even after Howard Webb had firmly put him back in his box. Allen, for his part, dusted himself down and got on with it.
There was more to his performance than industry however. He demonstrated his quality on the ball, continually picking it up in tight areas and turning in an instant, Afellay-style, to get us moving up the field. Then there was a second goal in as many weeks, born of the same strategy, the late arrival, gambling that the ball would drop for him, his instincts proven right again. Goals, engine, leadership, grit – it's still early days but at Old Trafford it looked as we had our own Bryan Robson in the middle of park.
After a couple of weeks where his windmilling looked unfocused and verged on the headless chicken – and contributed to our exposed defence – the manager has brought in another layer of protection in the form of Cameron and helped turn a weakness into our prevailing strength. In essence, Hughes has made Allen the centrepiece of the side. His reliance on his 'shining light' might just save him – particularly if we decide not to dwell, for a little while at least, on two 30-something stalwarts of the old regime who cost a combined £2.5m effectively holding the team together.
Casting off the 'Welsh Xavi' tag his own manager lumbered him with at Liverpool, Allen has reinvented himself as Hurricane Joe. If anyone sweeps us up the table, it's going to be him.
4) The importance of Johnson's return shouldn't be underestimated
Third in our roll of honour was Glen Johnson, whose return just as our form begins to (slightly) improve surely cannot be a coincidence.
The right back has been a composed presence in our back line, and his defending continues to be better than many of us thought it would be since he signed for the club a little over a year ago. It was he who kept Marcus Rashford's threat largely in check, while recovering the ball more times than anyone.
If he wasn't exactly given occasion to bomb forward, he did at least manage to carry the ball out to safety frequently, acting as an important safety valve when the pressure was on, while he is also one of our best passers of the ball, playing some intelligent balls into space for the wide men to latch onto and floating one sumptuous lofted pass to Arnie in the first half that created our first chance of the game. Of course, it was his shot that produced our goal as well, even if it should have been dealt with easily by De Gea.
With a veritable merry-go-round at right back, neither of the pretenders to Johnson's crown managing to convince for more than a handful of games in a row, it's a relief to have the stability of our undisputed first choice restored. His composure, married to an extra attacking edge down the right, is going to be massive for us.
5) Bony still deserves patience, but it won't last forever
It's still not really happening for Wilfried Bony. The Ivorian continues to look unfit and sluggish, to the extent that even neutrals are starting to notice. If BT Sports commentators didn't have much good to say about him, Football 365's excellent Winners and Losers column delivered an outright character assassination, reproduced below:
'Against United, Stoke might as well have been playing with ten men. Hughes asked his Stoke team to sit deep and defend, thus relying on Bony to lead the line and relieve pressure. Instead, he won two headers, managed no shots, lost possession on 17 occasions and struggled throughout with his first touch. Bony shook his head when substituted after 77 minutes, as if unhappy with Mark Hughes' decision to withdraw him. If anything, it came 32 minutes too late. Stoke's equaliser would follow later, in his absence.

In 318 minutes this season, Bony has had one shot on target. A list of Stoke players with more includes Joe Allen, Arnautovic, Bojan, Ryan Shawcross, Geoff Cameron and Glen Johnson. In 318 minutes he has created two chances. A list of Stoke players with more includes Allen, Arnautovic, Bojan, Glenn Whelan, Xherdan Shaqiri and Erik Pieters; Phil Bardsley can match him on both in significantly fewer minutes.'
Certainly it's hard to offer much in the way of defence, though I have to confess I didn't realise it was quite as bad as that. In the first half, the vibrancy of our other players in the final third, with Cameron and Allen getting into good positions on the break, Johnson and Arnie creating chances and Shaqiri giving us glimpses of his bag of tricks, only served to shine a light on Bony's lumpen presence, never in goalscoring positions, constantly beaten in the air, almost in the way at times.
However, I actually thought he improved after the break. The ball stuck to him better, and we saw his strength and his ability to bring the ball down and hold off defenders.  There was, for the first time in the match, some nuisance factor from him, and we saw what he has been and could be, with a bit more sharpness.
If he couldn't have many complaints about his removal, the sight of Peter Crouch being sent on again in his place was just mystifying. How in the name of crimony has Crouch, 35 years old and clearly not up to it at this level anymore, leapfrogged Diouf and Bojan to be our second-choice striker? Does a hat trick against the club currently 87th in the league really carry that much currency?
As for Bony, his record at this level, and the focal point he threatens to offer in fits and starts, mean he's worth persevering with. However, as a loanee, your impact has to come sooner rather than later, and that means getting fitter, getting sharper, and scoring goals. There is a limit to supporters' patience – not to mention that of a manager whose transfer business was already under the microscope before he arrived.